Victoria Towers - LOCATION
Victoria Towers is Located at Timog Avenue, Quezon City

Victoria Towers in Quezon City is one of the top new developments in the area. Quezon City is one of the major cities that form Metro Manila. This area is one of the most coveted addresses in Metro Manila as everything you could ever need is within a stone's throw away. Therefore, it offers convenience and accessibility if you want to make the most of the leisure destinations, or go to work or school.
Timog Avenue is one of the major roads in Quezon City. It is located near the Diliman area and passes through South Triangle. This street is noted as being the entertainment area of Quezon City. You will find plenty of clubs, bars, and comedy centers along the area. In addition, it is also home to some of the country's biggest television networks like GMA Network Center and the ABS-CBN headquarters is also located nearby.
This four-lane road serves as the heart of the Quezon City. It is connected to many major thoroughfares and intersections to offer accessibility to various shops, offices, schools, and commercial centers. Thus, Victoria Towers residents can enjoy the convenience of living in this condominium as you can pretty much walk to any destination you like. If you are commuting to school or work, you can also easily access the public transportation system to get you to where you need to go.
For your basic needs, the location of Victoria Towers in Timog Avenue serves as an advantage. For example, if you need to go shopping or buy your grocery, there are shopping centers and malls at literally every corner. Some of the best options nearby include Puregold, II Terrazzo, Farmers Plaza, Ali Mall, TriNoma, Gateway Mall, and UP Town Center. If you need health and medical services, you can also find a hospital or medical center nearby. The best options available that are close to Timog Avenue are East Avenue Medical Center, St. Luke's Medical Center, National Children's Hospital, and Quezon City General Hospital.
For your lifestyle needs, there are plenty of shops and bars located near Timog Avenue to indulge in your desire to relax and unwind. For casual dining in Quezon City, your options include Dampa sa Timog, Silla Restaurant, and RUB Ribs & BBQ. If you want a more upscale dining experience, head to 49-B Heirloom Kitchen. If you want to enjoy great cocktails, go to Quattro Grill Bar & Restaurant, Off The Grill, or Karaoke Republic.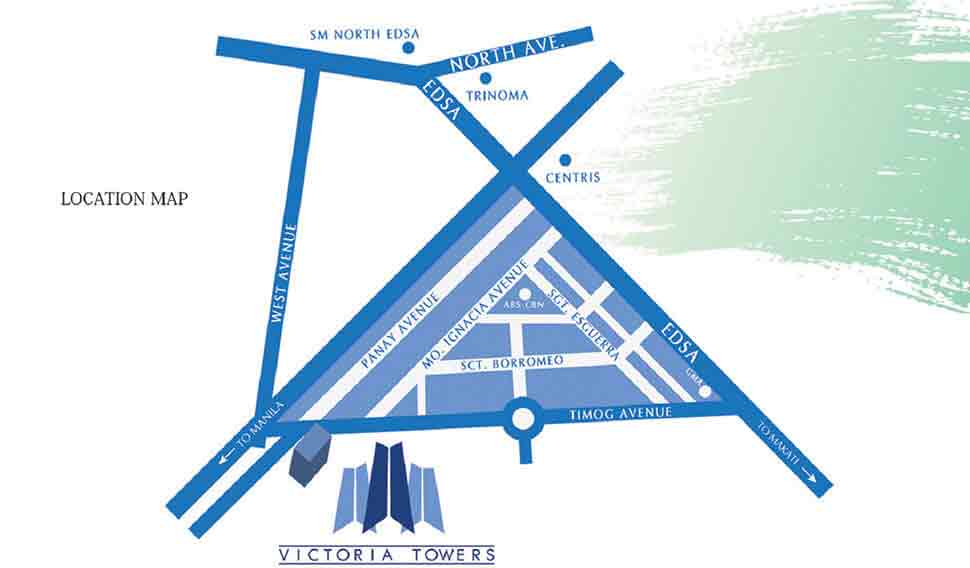 With the accessibility to the aforementioned establishments and businesses, living the life you want is easier with Victoria Towers. You can find many offices and business districts nearby, which makes it a great address to live in for those working in a corporate environment as you won't have to travel far. At the same time, you can ride the wave of a fast-paced lifestyle while ensuring that you can get the peaceful refuge you seek at the Victoria Towers. It is no surprise why it is one of the most coveted addresses in Metro Manila; thus real estate properties in the area are at a premium.